Once a year, KEPHART closes the office for Research & Development Day.  This provides an opportunity for everyone to step away from their desks, get outside, and learn from on-site experiences.  We assemble in small teams to explore different topics and then reconvene and share what we learned.
One of the four teams we broke into this year was the 'Hot New Apartments Tour' Team to see what some of these notable projects are all about.  With the continued growth of Denver, we had quite the canvas to study, and narrowing down to just three site visits was a challenge.  Collectively we discussed what precisely we were looking for and landed on three concepts: efficiency of design, luxury design, and new concepts in design.  This led us to set up tours at The Economist, The Country Club Towers I & II, and The Hanover.
The Economist is a project that is nearly finished with construction in the Capitol Hill neighborhood of Denver and it was designed by OZ Architecture.  The layout of this property is all about efficiency and community living.  Boasting mostly studios, the units are smaller than typical, but have higher ceilings with a loft area above the enclosed spaces to alleviate any possibility of feeling restricted when inside.  The smaller unit size promotes residents to use the highly flexible amenity spaces divided between the two buildings.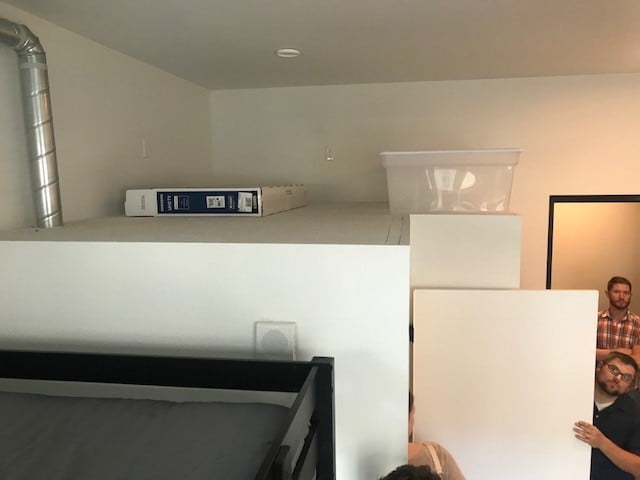 For a final touch, the external materials feel industrial until you get to the space between the two buildings.  There you find a mix of warmth and colors with the use of wood to ground you and boldly painted shingles to invite you in.  This was a surprisingly opportune movement that was well accomplished by the architect.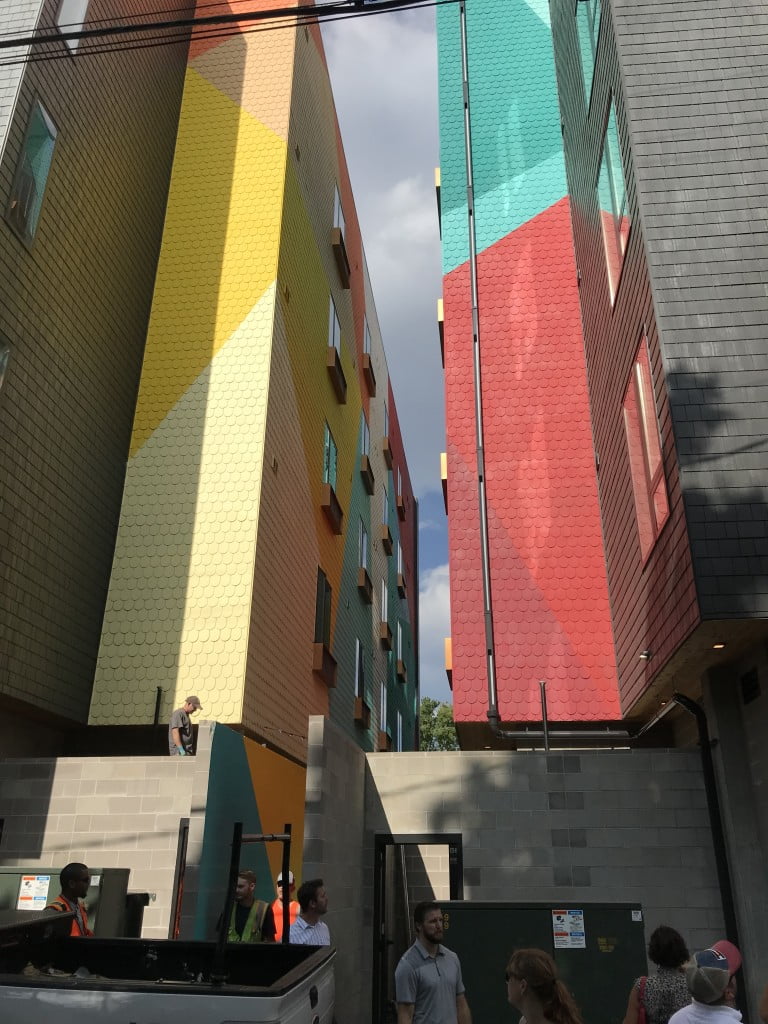 From there we headed over to the Country Club Towers I & II located in Washington Park West.  These stunning twin towers climb high over the campus below and provide excellent vistas of the mountains, downtown, and the neighboring golf course.  From the moment we walked into the lobby, the variety of finishes and custom artwork offered a curiosity that really positioned one to want to explore more.  SBC Architects did a great job designing and detailing the high-end community.  The units were cleverly situated with angled-out windows to reinforce uninterrupted views.  But the real draw to the property was the stunning amenity deck.  Spanning the entire footprint of the lower floors, the amenity deck was packed from end-to-end with a variety of spaces for all residents to use.  Inside there were multiple living rooms and dens, a commercial grade kitchen and dining area, a beautiful bar, a business center, a large gym, and a game room.  Just outside are grills, seating areas, fireplaces and fire pits, a pool and hot tub, a bocce ball court, a dog walk, and a putting green.  There is plenty of area to spread out with comfortable furniture and lots of plants to soften the hardscape.  Adequately sized, it felt as if all residents could be in this area at one time and not feel crowded.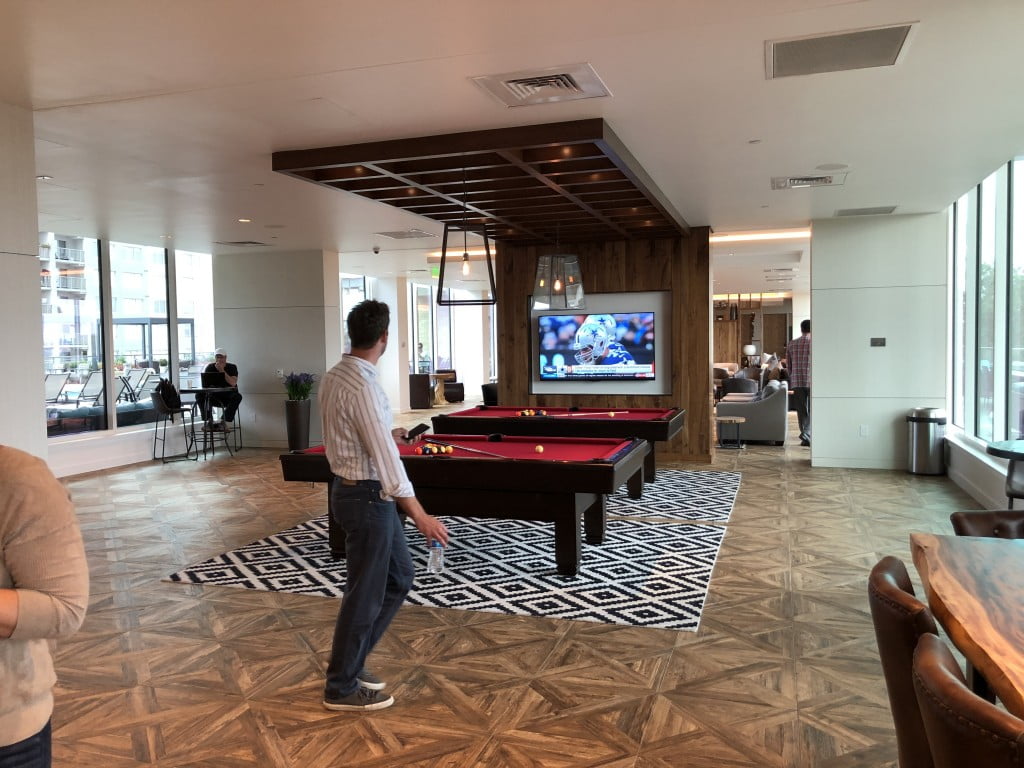 Our final stop was at the Hanover in near Platt Park.  Still under construction, this property comprises of two buildings with shared amenity spaces.  Well laid out units, nicely landscaped courtyards, a pool deck, fitness center and a clubhouse; the project will certainly be a success when completed.  The real star of this project are the unique live/work units.  While live/work units are typically stacked on different levels, at the Hanover they are on one level with storefront windows at the sidewalk for business street frontage and the private unit is tucked back.  The units felt light and bright with high ceilings, store front glass, and a barn door effectively separating the two sides.  All and all, this was an excellent design.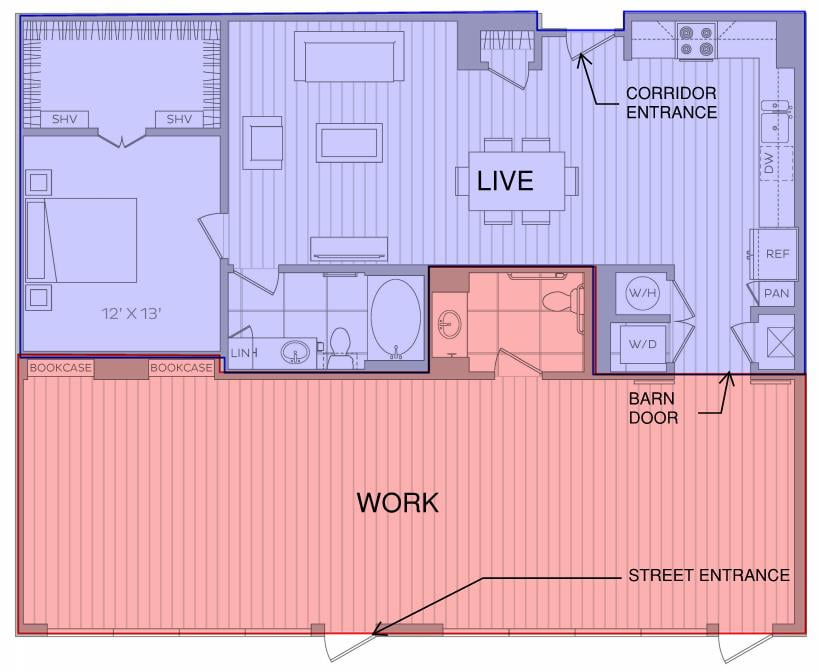 The top takeaways from this apartment tour that we see lead to successful design are:
Efficient layouts
Appropriate materials and finishes
Amenities that are tailored to the user. For example, the spacious luxury at the County Club Towers, the flexible common space at The Economist and the strong work/live units at The Hanover.
As designers, the opportunity to research our market is an invaluable one.  These three properties offered incredible learning prospects that we can utilize when working on future projects.  While all of these communities varied in size, style, and function they boast unique attributes that makes each one desirable to a range of residents.