It's hard to believe that another International Builders' Show has already come and gone. This year, the KEPHART team headed to Orlando to speak, learn and network with the best in the building industry.  Three people from KEPHART were presenters, we won three awards, and we learned some helpful tips and tricks to wrap up another successful IBS.  Below is a summary of this years' experience.
Presentations
60 Design Ideas in 60 Minutes: 2017's Top Trends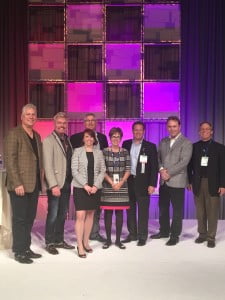 Jamie Goldman moderated the annual 60 Design Ideas in 60 Minutes. This session is always an IBS favorite that showcases a flurry of great design ideas and trends.  Jamie was accompanied by Maxine Lauer with Sphere Trending, John Thatch with Dahlin Group, Mike Hetherman with Willis, Steve James with DTJ Design, Rick Overby with Stella Color + Design, Sandford Steinberg with Steinberg Dickey Collaborative, LLP, Eric Brown with Artisan Homes Realty, LLC, Todd Hallett with TK Design & Associates, Inc., and March Thee with Marc-Michael Interior Design, Inc. See the full presentation below.
Dispelling Myths and Making Cents of Multifamily Green Building Certification
Kate Hamblet moderated this presentation with Elizabeth Gillmor with Energetic Consulting Engineers and Jeff Slaugh with US-EcoLogic. Want to understand the value and benefits of green certification can add to a multifamily property? View the slides below!
Awards
This year we were presented with three awards at the International Builders Show:
At the Best of 55+ Housing Awards, our website (kephart.com), won Gold for the Best 55+ Corporate Website for an Associate.
At the Nationals Awards, our website (kephart.com) won Silver for the Best Website for an Associate and Supplier, and a boutique single family community we designed, Boulevard One at Lowry for Thrive Homes, won a Silver for Best On the Boards Community.
When we were at the awards ceremonies this year, we were really impressed by the level of entries and the great designs that were presented. To view the Gold winners of The Nationals Awards click here and to view the Silver winners of The Nationals Awards click here.
Tips and Tricks
Below are a few tidbits that we took away from the show that we would like to share.
Jamie Goldman– "During the Multifamily Market Outlook session Kim Betancourt with Fannie Mae and Robert Denk with the NAHB shared their outlook for the multifamily housing market for 2017.  Their synopsis was that overall they don't think that there is an over-supply issue in the U.S., but there are certain submarkets that are challenged. They see the multifamily housing market leveling out in 2017 and they are not expecting a recession to occur in the next 12 to 18 months.  To view the whole presentation, click here."
Bobby Long– "I was enthused and excited to see a renewed focus and attention to authenticity. Across all aspects of the show, consistent in the presentations to the product focus on the show floor, the sense that today's buyers and renters are looking for "the story" and consistent follow through on the built product was evident. The example that always comes to mind is our on-again, off-again fascination with shutters. In the past, it was ok to add a standard 12" wide faux shutter next to virtually any size window – no matter how ridiculous. Today's savvy buyers mandate that the shutter size actually conform to the adjacent window – many going so far as to demand the shutters actually function; complete with latches and hinges. While this may seem a bit over the top, I submit that this level of responsibility placed upon us designers and developers can only influence the quality of the product in a positive manner. Our homes will again have a depth of form and function that is consistent with the stories of our lives as defined by the places we live. In effect, our homes (and our lives) will be authentic."
Kate Hamblet– "I enjoyed seeing the emphasis still being placed on indoor/outdoor spaces.  This connection to the outdoors has been trending for a while now and there's a reason why it's not going away.  A connection to nature is vital to our health and well-being.  Wellness is a multi-trillion dollar industry and people are willing to pay for it in their homes.  Taking down the walls and blurring the line between inside and out creates a beautiful relationship to nature and increases livable square footage!"
Chris Grady- "A large takeaway for me was from the "Design within Reach: Bringing Urban Touches to Suburban Environments" presentation. Millennials buying in urban or central city areas is decreasing as they are looking for value in the suburbs. They are also starting families and looking for home affordability, yard space, better schools, etc.  BUT, they (and others) are looking for suburban locations that feature URBAN amenities – walkability, proximity to parks, health food stores, exercise, and services. They are looking for urban perks and the feeling of being a part of the community. Less commuting is also key as many have the option of working from home. That said, the suburban model will continue to change / transform in exciting ways."
Sarah Key– "My favorite part of IBS this year was the "60 Design Ideas in 60 Minutes: 2017 Top Trends". There are always great design ideas and tips presented. One of my favorites was the flexible kitchen counters and tables. Being able to move and rearrange what appears to be stationary furniture is convenient and a great design."
What were your favorite take-aways from IBS this year?
See you next year, Orlando!