Another year has come and gone for the International Builders Show! We enjoyed a great year filled with education, award galas and networking. See  our presentations and award winning projects below!
Presentations
1. Know Your Neighbors: Community Outreach Strategies for Navigating Challenging Approvals
Chris Grady with KEPHART presented with Phil Stuepfert with HR Green and Jared Carlon with Norris Design on navigating challenging approvals. This presentation covered strategies for developing strong relationships with citizens, elected officials, and municipal staff through social media, honest communication, and outreach.
2. Do This, Not That! Design Do's & Don'ts for 2019
This fast-paced design session is a staple at every International Builders Show. This year, Sarah Kaplan with KEPHART presented with Angela Harris with TRIO, Todd Hallett with TK Design & Associates, and John Brock with Brockworks, Inc. This panel of industry leaders share the design mistakes you need to stop making and the design "dos" that are trending in today's buyers.
3. The Secret to Picking the Best Sites
Adam Kantor with KEPHART presented with Eric Brown with Artisan Homes on how to select the best sites for residential development. They shared all about how to effectively evaluate the merits of a site and how to determine the right product offering and pricing that will be best suited for it.

4. The Future is Female
Sarah Kaplan with KEPHART teamed up with Jenni Lantz at DesignLens to share how to capture the attention of single women homebuyers- representing 20% of the market. The features and amenities Sarah and Jenni presented are important considerations when designing and building new home and communities in today's market.

Awards
KEPHART came home with a few awards from the International Builders Show this year!
Best in American Living Awards
The Citizens – Columbus, OH – Edwards Communities
Gold Winner – Adaptive Reuse, Multifamily
The Residences at Canalside – Fairport, NY – Riedman Companies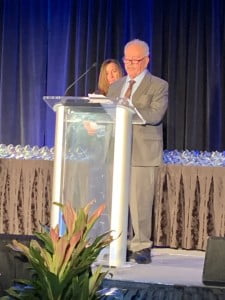 Silver Winner – Multifamily Development 4-7 Stories, Built for Sale
Mike Kephart was inducted into the 2018 Best in American Living Awards Hall of Fame
Pillars of the Industry Awards
The Citizens – Columbus OH – Edwards Communities
Finalist – Best Adaptive Reuse
Congratulations to all the finalists and winners this year!
See you next year back in Las Vegas for the Internationals Builders' Show 2020!