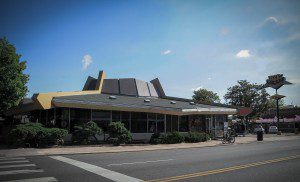 It is no secret that Denver is booming. Booming with new life, new buildings, and new people. But with all the new – we sometimes forget or lose the past. That is why KEPHART is honored to be recognized for our work on Tom's Starlight, receiving a Remix Award from Historic Denver. It is given to projects that creatively combine old and new without detracting from the community's appreciation of the original structure.
Since 1967, the Googie–style architecture of Tom's Diner has been a welcome sign to travelers driving on East Colfax. The 24/7 diner was a staple for road-trippers and residents of the Capitol Hill neighborhood until Tom Messina put the diner up for sale in 2019. He applied for a Certificate of Non-Historic Status from the City of Denver, clearing the way for demolition. Neighbors and local architecture buffs wanted to preserve this Googie-style gem, so they created a community group that submitted a landmark application, paving the way for Historic Denver to help put it on the National Register of Historic Places the same year.
The team at KEPHART was vital in transporting this 'Jetsons' inspired building into the 21st century. The tired, around-the-clock diner was given a 1960s-era Palm Springs facelift. The existing stone exterior still welcomes patrons, while the warm walnut paneling behind the mixologists invites them inside once they open the glass doors. Guests can sit where they did in 1967 with new bar stools and booths finished in laminate and vinyl, back in their original places. Not only will you see KEPHART's design – but you can feel it, too. We provided brand management and guidance over the venue's new name, menu design, music, and even the fork you're eating your dinner with. Our design team carefully curated an experience for patrons that thoughtfully links the venue's past.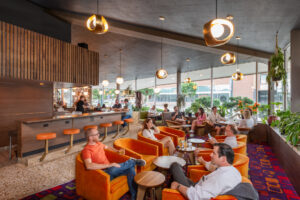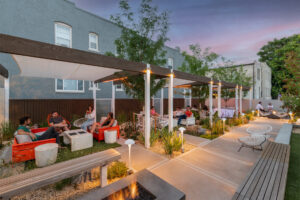 KEPHART's design of the space didn't stop on the inside. Our team extended the venue, replacing 30 parking spots with 25 new trees, making it Denver's largest system-built urban garden. Guests are now carried out of the heart of Denver and into a tropical oasis, where they can enjoy cocktails in semi-private cabanas, enjoy a chilly night by the fire pit, or listen to the newest up-and-coming singer on the large lawn that can transform into a stage. Guests won't need to go back inside for refills either, with a new large outdoor bar and exterior prep area.
KEPHART took exceptional care to ensure the new elements that were added to the original design could be easily removed in the future without impacting the historic structure. Tom's Diner was a legacy in Denver. This is why it was important for our team to build on its past while creating an essential and nostalgic place for neighbors to gather and build community. We are proud to be recognized for our work on this iconic building in Denver, and a special thank you to Josh Robinson, Chad Gleason, and Phil Scott for their hard work on this project. We are thrilled that the legacy of the new Tom's Starlight is starting off with this exciting honor.
Watch Josh's interview about our award on Colorado and Company below.
Learn more about Historic Denver's 53rd Annual Award Ceremony here.