Slated to open spring 2018, Riverview at 1700 Platte will be one of Denver's newest mixed-use developments with over 200,000 square feet of office space and roughly 50,000 square feet of retail, tucked in the western edge of the Lower Highlands neighborhood and flanked by the Platte River.  The team successfully tied together two primary elevations addressing differing contexts; a strong, well-detailed masonry and retail storefront facing the Highlands and full height glazing with direct access to Denver's primary biking and pedestrian corridors facing downtown.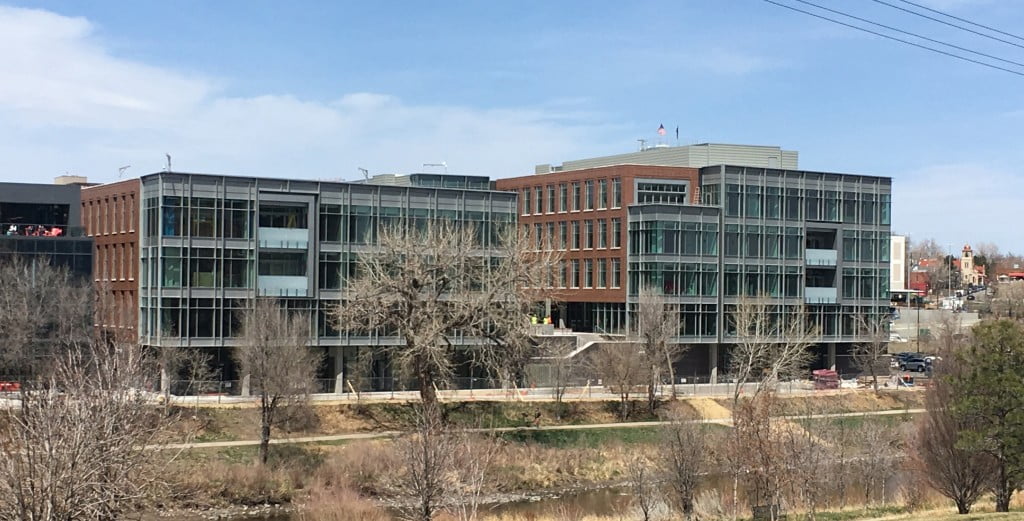 The design and development team consists of Trammell Crow Company as the developer, Tryba Architects as the Architect of record, and RNL, now Stantec, as the interior designer.  The majority of the office space has been devoted to BP Lower 48's new headquarters, relocating from Houston to Denver.  Likewise, continuing the active, pedestrian friendly Platte Street corridor, this project will house a few restaurants sized at 25,000 – 30,000 square feet each.  This development was a pleasure to tour and will surely be even more exciting to work in.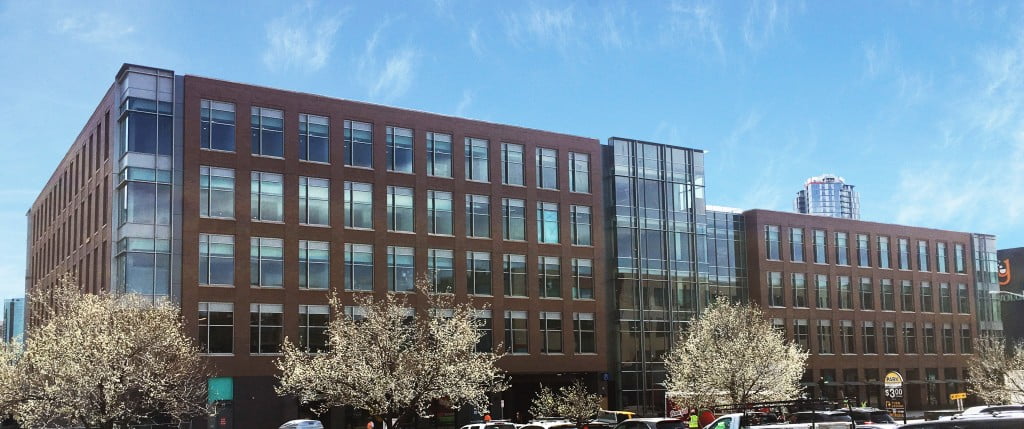 In recognition of this unique site, the formal building concept aims to bridge the lower Highlands to the Platte River and the spectacular views of downtown. Connecting the northern and southern brick-clad wings along Platte Street, the design team utilized an EFCO butt-glazed curtain wall "link."  From the main entry off of Platte Street, the interior begins with a double height green wall in the lobby and directs visitors up a grand stair where at the top unveils a direct view over Commons Park to Union Station.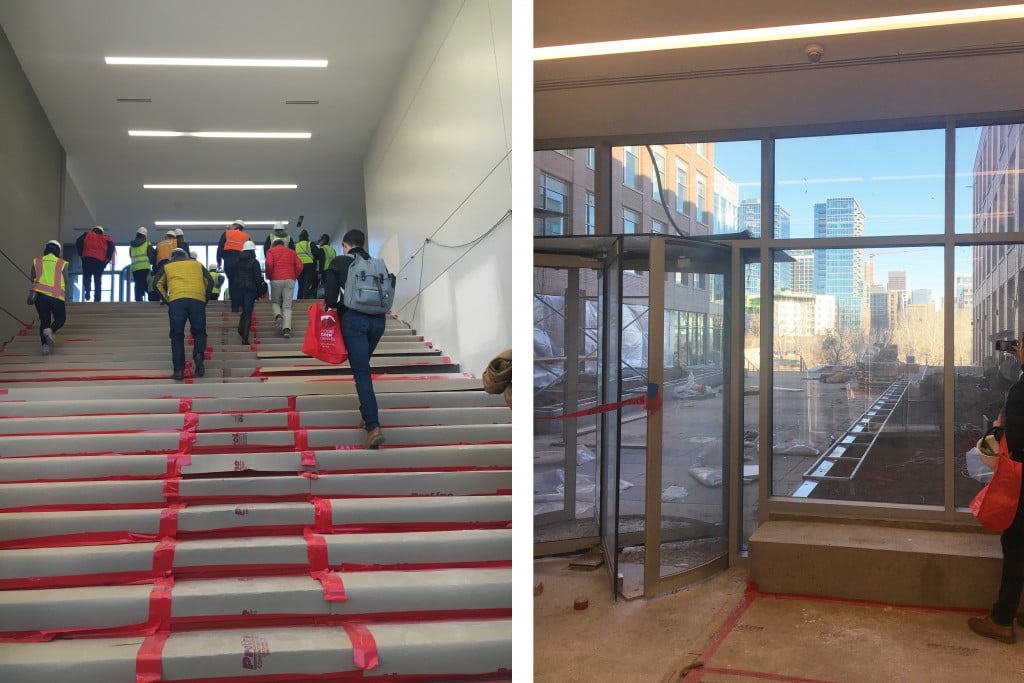 At the top of the stair, the glass link opens up directly onto a large courtyard via another revolving door, subtly providing a feeling that one is still at street level.  This intensive Hydrotech roof functions as one of Denver's only rain gardens allowed to drain into Platte River.  In effect, water throughout the site drains to the courtyard, where it is filtered through up to 36″ of soil and is then directed immediately to Platte River.  Finally, with these terrifically framed views, Trammel Crow Company is planning to allow this courtyard to be rented out for events and is working with a local restauranteur on providing an outdoor dining experience for public enjoyment.

Designing how this building functionally integrates into the surrounding neighborhood was clearly a priority.  It is also clear that the needs of the end users are met with intentionality.  For instance, flexibility has been built in with 13 1/2′ foot floor-to-floor heights. Tenants have the ability to determine where they want an open floor plan for workstations with beautifully exposed, clean lines of precast ribs paying homage to the industry that once occupied Platte Street. Simultaneously, tenants are provided the flexibility for frame down ceilings and soffits for softer and quieter spaces in lobbies or conference rooms.  Additionally, building amenities weren't spared with over 300 parking spaces available in the underground garage, a ratio that exceeds downtown parking requirements. 300 enclosed bicycle parking spaces are also provided and located in a large, south-facing room with full height glazing and spectacular views of downtown. This bike room is conveniently located with direct access off the South Platte River Trail.  Further, street level amenities along the Platte River include a fitness room, again with full-height glazing, carefully detailed and comfortable locker rooms with showers, and a large office training center with two Nanawalls providing a seamless transition from exterior to interior.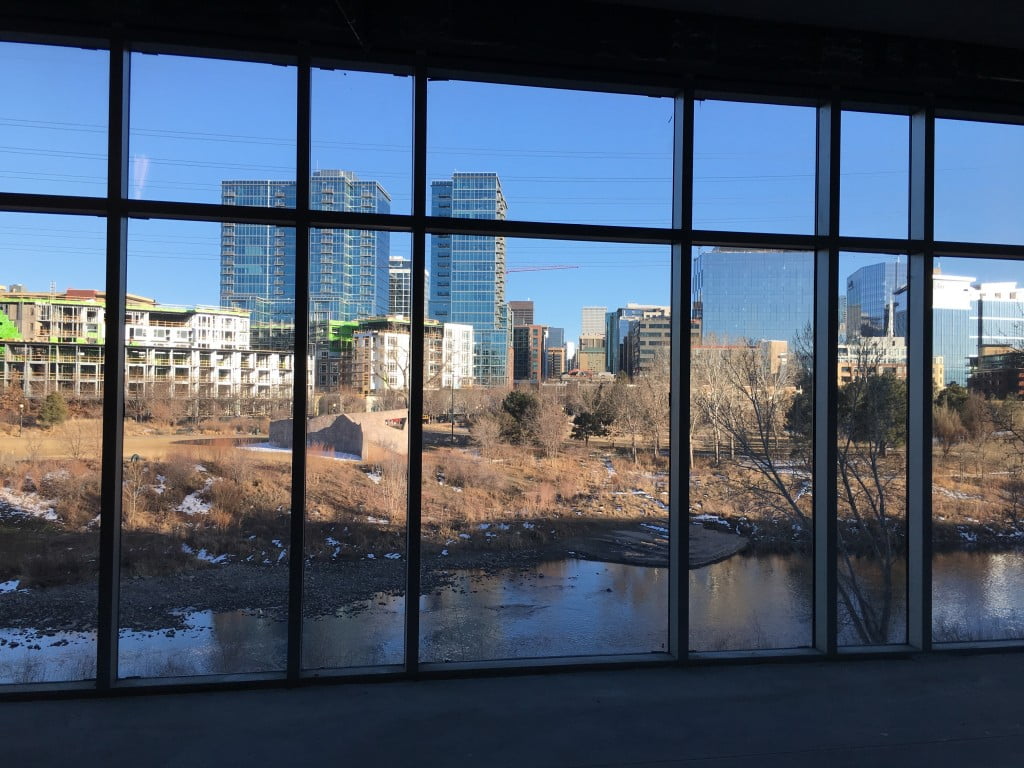 In one of BP's office spaces, a custom designed staircase, reminiscent of an oilrig's geometry, or an M.C. Escher composition, sits in an atrium providing a strong and dramatic vertical connection.  On the river-facing side, multiple double-height spaces will provide employees with a place to rest, grab coffee, and enjoy living green walls and the downtown Denver skyline.  For instance, one specific corner was chosen to have structure removed for the installation of a floating net to appeal to the millennial office dweller who appreciates a change of scenery from the standard cubicle.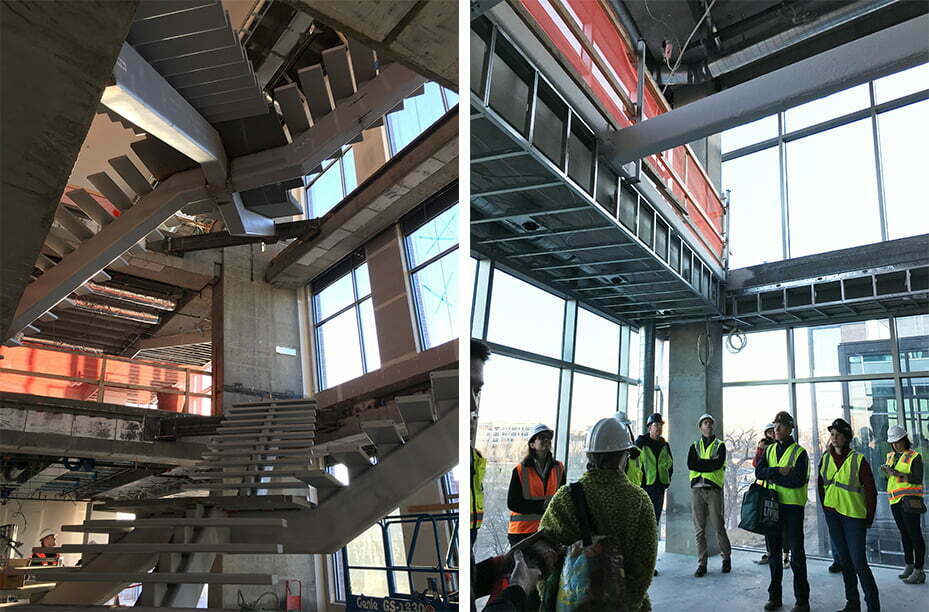 Like any great office building designed for the future, the team that helped Riverview at 1700 Platte become a reality went above and beyond to address contexts of both the history of the site and the future of downtown.  With careful attention to every detail, from masonry coursing to curtain system profiles, this building will appeal to current and future generations that will inhabit these spaces.  Although most of the interior was not finished at the time of this Denver Architecture Foundation hosted tour, it was clear the vision won't be lost and the development as a whole will be welcomed by the neighborhood as a truly timeless addition to Denver's architectural landscape.