A Top Denver-based Residential Architecture and Land Planning Design Firm
Since 1974, the KEPHART team has been dedicated to the idea that EVERYONE deserves a well-designed place to live. For us, this means creating innovative homes and communities regardless of project challenges. We see quality design being something for EVERYONE, not just the wealthy. Home is where the heart is, which is why, at KEPHART, we focus on residential design and planning. We are happy to report that our clients and peers think we are pretty good at it, making us one of the top architecture and design firms in Denver and the nation.
"D4 Urban has been delighted by the work of KEPHART on our Denizen apartment project…" – Chris Waggett, CEO, D4 Urban LLC
"KEPHART is our go-to architecture and planning firm. First and foremost, KEPHART is the quarterback of the design team. They work to understand the vision of the developer and excel at collaborating with all parties involved to create and execute successful designs. We value our relationship with KEPHART as they understand the nuances of our developments and are creative designers and problem solvers. They are key players in our continued success." – Darren Fisk, Founder & CEO, Forum Real Estate Group
Our Architecture and Design Awards and Honors Include:
KEPHART- 2019 & 2018 Best Places to Work; 2017 Top 19 Best Architects in Denver
Winter Park Town Center – Best On the Boards Community
Lowry Rowhomes – Best On the Boards Architectural Design Production
Denizen- NAHB 2017 Award for Best in Green Multifamily Project; NAHB Multifamily Council 2017 Pillars of the Industry Award for Best Example of Green Building Concepts; 2016 Mayor's Design Award for Distinctive Denver
Kent Place- HBA of Metro Denver 2017 MAME Award for Community Amenity Feature
Boulevard One- HBA of Metro Denver 2016 MAME Award for Best on the Boards Community
LoHi Central- HBA of Metro Denver 2016 MAME Award for Best Architectural Design, Urban Infill Design
The firm has won more than 40 local and national design awards in the past six years
Presenting at 45 national speaking engagements and publishing 30+ articles  about the firm in the past four years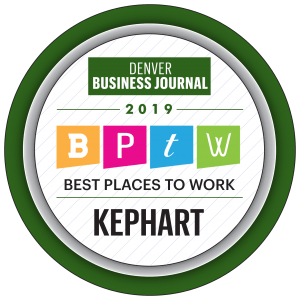 We have designed more than 400,000 homes. From apartment buildings to single family homes to urban infill designs, you can see our designs almost anywhere. When you work with KEPHART you are working with the best. We invest heavily in architecture and design technology and training that is geared to our expertise in housing. As the top Denver residential architects, you can find our architecture and planning work throughout Colorado. Our architectural services are also seen in major metro areas across the U.S. including: Phoenix, Chicago, Los Angeles, Seattle, Washington D.C., Orlando, St. Louis, Minneapolis, Cincinnati, Columbus, Boulder, and Fort Collins among others.
People sometimes ask what the key to our longevity as a successful, national architecture firm has been. (Beer on Fridays! Just kidding, but it does help.) It is having great clients that trust and believe in us. We love solving tough architectural problems while saving money for our partners. Success for us is creating innovative, architectural design solutions. It is having FUN and loving what we do!
Community Service
In addition to being great architectural designers and land planners, the KEPHART team dedicates time to giving back to the communities we serve. We rebuilt homes in New Orleans after Hurricane Katrina. Habitat for Humanity has taught us many hands on building skills. We strive to grant at least one Wish for Make-A-Wish Colorado each year. You will often see the KEPHART team in action throughout the community helping make a difference.
We are KEPHART and we are proud to be over 40. Here's to looking forward to being 50, and what 100 will bring. Join us and experience the KEPHART difference.