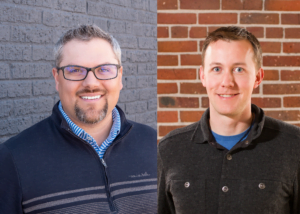 KEPHART is proud to announce the promotions of Wade Hanson and Ryan Bender from Project Managers to Associate Principals. They each exemplify who KEPHART is through their ambition, initiative, and aptitude.  
"Each of them embodies these things as an individual," said Bryce Hall, KEPHART President. "If you have had the privilege of working with either Ryan or Wade on a team, you know that they put your well-being ahead of theirs and that they put the success of the team and of KEPHART above their own. They are champions of our culture and represent who we are today as a company." 
Wade Hanson 
Hanson has a diverse background in residential architecture with a decade of experience in the design and construction industries. Hanson's passion lies in urban and people-focused design, and he enjoys using his creative problem-solving approach to help navigate complex projects. He enjoys mentoring his teammates, allowing them to advance their careers further. 
Ryan Bender 
With more than a decade of experience at KEPHART, Bender has knowledge working on a variety of residential communities ranging from high-density, mixed-use apartments and assisted living facilities. Bender believes useful design starts with carefully considering how people live and how it will impact their daily lives. Bender enjoys digging into the details and collaborating with KEPHART's clients ensuring their vision becomes reality.  
Hanson and Bender will join seven other Associate Principals at KEPHART.  
---