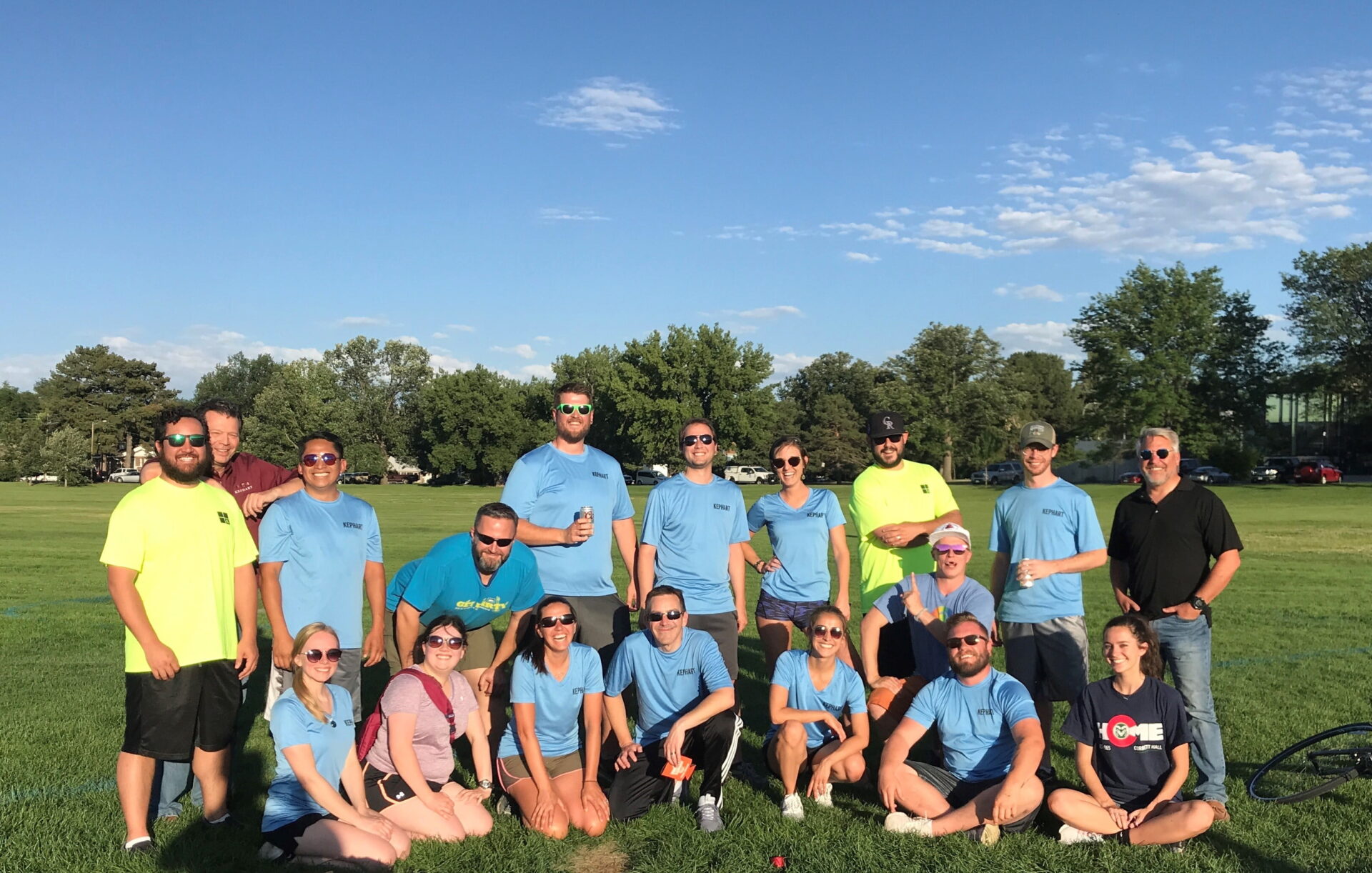 "RUN!!"
"STRIKE!!"
"HOME RUN!!"
Remind you of anything? Kickball! After the game's introduction to school children, it dominated all school yards and underutilized ball parks. Jesse Garland, a talented KEPHART employee, created the Design Kickball League after a discussion with a colleague in the industry. Together they thought, what better way to boost internal relationships and external partnerships, within the architect industry, than through a fun game of kickball? Jesse plans to use the league as a way to give back to the community and help those in need.
Coach Carter took on the role of "Coach" after the birth of Jesse's daughter. His favorite part about being coach is "The comradery. We have a great group of people here at Kephart. No matter if we win or lose, we have fun. That's especially important given there was considerably more losses than wins this season!" He realizes the game is meant for fun. A true comedian at heart, Carter keeps his team's core strength strong by triggering belly laughs. His words of wisdom, dosed with irony, keep his team smiling and cohesive.
Jennifer Dodge's participation in the All-Star Game is top on her list of memorable events. During her first year with KEPHART, she was selected to play in the highly anticipated, end of season, All-Star Game. It was a pleasant afternoon complete with food, drink and yard games. After much anticipation, the game began. Jennifer was placed on 2nd base. The first kicker was up; he punted the ball far left with extraordinary force. It moved quickly to 3rd base. Meanwhile, Jennifer's attention was elsewhere – savoring her cold beer and soaking in the sun. That is until, she noticed something out the corner of her eye. Her heart dropped, her eyes bulged in horror and the warm rush of adrenaline pulsed rapidly through her limbs. The 3rd baseman had volleyed the ball! With a mere second to pivot and react, the ball smashed into her outstretched hand. Moments later, she looked down… typically positioned straight, her finger leaned far left. Twelve weeks later, her broken finger was healed! Painful yet unforgettable, this all-star moment will go down in history.
KEPHART has enjoyed building strong ties with various architectural firms in the league. Similarly, it's an opportunity to strengthen relationships with peers. For example, as a new employee, the game helped Brook Mejia quickly immerse into the KEPHART family and feel a sincere sense of kinship. The kickball league encourages friendship and fun. "It speaks a lot to our core values – nurturing relationships and optimistic spirits" says Jesse. We are proud supporters of our players and their dedication to KEPHART's success both on and off the field.