An essential part of building community is designing places that allow people to connect. One way to prioritize connection is by creating third places – places beyond the walls of home (first place) and work (second place) that lend themselves to effortless and random encounters between residents and visitors, like coffee shops or dog parks. Third places create somewhere to escape to without being alone, bring vitality to a community and allow for the unexpected to happen. They have the power to shape community, inviting in people from different walks of life and encouraging them to meet. As a society, we rely on third places and the interactions they spark to feel socially connected, to bring us joy in meeting someone new, and to remind us that we are more alike than we are different.
Though third places bring tremendous value to all types of housing and demographics, they are particularly pertinent for older adults who are considering moving from their single-family homes to senior living communities. According to a 2020 report from the National Academies of Sciences, Engineering, and Medicine, one-third of adults aged 45 and older feel lonely, and nearly one-fourth of adults are considered socially isolated. Older adults are at increased risk for loneliness and social isolation due to factors such as living alone and the loss of family and friends. Integrating third places into the design of senior living communities creates opportunities for effortless connection, allowing residents to share experiences that reflect their personal interests with others who enjoy them as well. This not only leads to improved quality of life and health but encourages residents to stay long-term. When exploring the types of spaces that foster random and meaningful connections, it is important to not only consider experiences between residents but the surrounding community as well.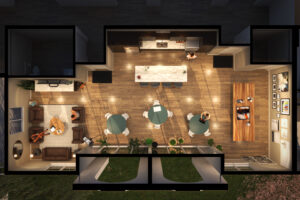 By leaving art supplies and games out and easily accessible for residents, this craft room invites passersby
in to try a new activity and creates a space for casual encounters. 
Provide experiences. As older adults move into a new chapter of life and are no longer bound by routine responsibilities like caring for children or going to work, they are eager to enjoy their newfound flexibility, chase their sense of adventure, and try new activities with new people. They are looking to live in communities that provide opportunities for impromptu connection, from dropping into the painting studio on a weekday afternoon to spreading out a blanket at a Friday night concert on the green. When designing amenity spaces to function as third places, consider the types of experiences they can accommodate and be mindful to locate them in highly visible and trafficked areas. This allows people passing by to see the activity and decide whether they want to join.
A few ways to create spontaneous and meaningful experiences for residents include leaving art supplies, painting easels and puzzles out and easily accessible in a craft room, inviting residents to create when and how they want. Leave equipment for bocce ball or corn hole set up on a visible lawn or in a courtyard, so when one resident sees another playing, they will be enticed to join. Design a grab-and-go food market so that residents are not bound to dining at set hours and can eat casually or enjoy the space as a gathering area during community happy hour. Create a music lounge that can be used for lessons and performances and is also outfitted with instruments that are tuned and ready to be picked up and played at any time.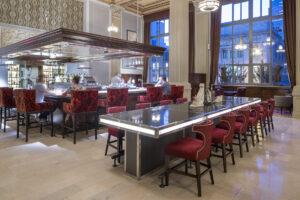 The lobby bar is open to residents and to community members, increasing opportunity for an
effortless conversation and the chance to meet someone new.
Bring the community in. Keeping older adults socially connected is imperative to their long-term health. One way to increase opportunities for connection is to invite the surrounding community. This can be accomplished either through shared physical spaces like coffee shops, food truck courts and lobby bars, or by offering events and services to the public, like art classes, cooking demonstrations, concerts, or spa and fitness memberships. Encouraging residents and the neighboring community to comingle can help break down the social barrier that sometimes separates the two. It can also reduce the stigma around moving into a senior living community, creating an opportunity for potential future residents or adult children to understand what life is like there before deciding to move. Another benefit of offering programmed events to the public, is the opportunity for increased headcount, which can help underwrite the cost of providing these experiences.
---
Social connectivity is key to our long-term health and well-being. Purposefully incorporating Third Places in senior living communities that encourage effortless and meaningful connection and serve as a "home away from home" will improve lives and spark the creating of new relationships and the strengthening of existing ones.
Originally Published in the July 2023 Colorado Real Estate Journal, read here.