This article, written by KEPHART Principal and Director of Architecture John Binder, was originally featured in Colorado Real Estate Journal's Health Care, Senior & Life Sciences Quarterly – October 2023. Click here to read the article.
---
Denver is full of underperforming office buildings waiting for their next life. Converting vacant office buildings into residential is a trend gaining traction in Colorado as cities like Denver continue to incentivize their conversions. Attracting older adults to occupy these repositioned buildings may be Denver's solution as new trends for senior living appear for developers.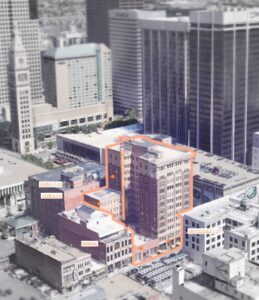 Nearly a quarter of Denver office spaces were still vacant in September, according to the Downtown Denver Partnership's "HighFrequency Economic Update." Across the United States, another 1.4 billion square feet of office space – approximately the size of Greeley – could become obsolete in the next few years, according to news reports. Fewer employees are going into the office after the pandemic as Denver grapples with one of the worst housing shortages in the country. Zillow estimates Colorado's capital is missing 70,000 units. Older Americans are also expected to reach unprecedented levels in the next 30 years. According to Edward Jones, Americans 65 and older are expected to reach 86 million by 2050. That is up from 35 million in 2000.
Residential conversions offer a two-birds, one-stone approach by breathing new life into the urban corridor and replacing workers with residents. Denver is expediting the process with a pilot program where developers can meet one-on-one with staff to fast-track the development review process. "These distressed buildings have an opportunity for a new life," said Melissa Rummel, development director of Nichols Partnership. She serves on Denver's task force for office-to-residential conversions. "It's a way to bring vibrancy back into the urban core while preserving a piece of history."
Converting vacant office buildings for residential use has been a mainstream idea with minimal movement. Developers may face structural, zoning and legal issues, among other regulations, that can make conversions costly. However, officials are open to conversions and cutting the red tape to help. Besides regulations, the evaluation and input from MEP engineers are critical, according to Rummel.
It is also crucial to evaluate the building as it currently exists, considering the geometry, structure, systems, and daylight to determine what must be changed for residential use. Rummel recently completed the conversion of 1200 Lincoln Street in Denver. Creative problem-solving with her teams helped her transform the old Art Institute of Colorado into a 192-unit apartment building that reimagines studio apartment living, while paying homage to the building's past.
"Conversions take a lot of problem-solving, starting from the architects down to the engineers. If they're not all on the same page, it can draw out the process," said Rummel. "Start the process early with MEP engineers and engage with ones that are experienced in conversions and the jurisdiction you're in."
As downtown tries to reinvent itself, older adults are seeking new opportunities to build community. As we get older, the risk of isolation from others increases. Dr. Craig Sawchuk, a Mayo Clinic psychologist, told Senior Lifestyle, "We are social animals by nature, so we tend to function better when we're in a community setting and being around others." Isolation can be so dangerous to older adults; it increases the risk of premature death at the same rate as other risks like smoking, obesity, and physical inactivity, according to the Centers for Disease Control and Prevention. Socialization has been shown to be one of the most effective ways for older adults to improve their mental health.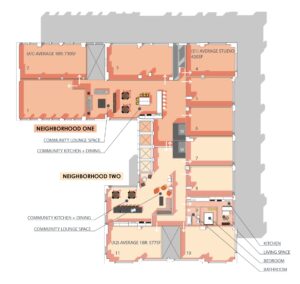 Converted office buildings can provide the perfect opportunity for older adults to live an active and social lifestyle when methodically programmed. Instead of relying solely on large amenity spaces for connection, consider integrating smaller neighborhoods on each floor to help foster thoughtful interaction by providing comfortable, intimate spaces for residents to gather. This is a departure from the programming typically found in large apartment buildings, where shared amenity spaces are used by everyone, making it more challenging to meaningfully connect with neighbors. Rightsizing the amenity spaces for smaller groups and conveniently situating them at the heart of each neighborhood allows residents to easily come together to cook a meal, play a game or stream a favorite show together. Neighborhoods could also be themed to further attract individuals with shared interests.
Buildings in the urban core offer a unique and exciting place for older adults to start their next chapter as they are not the copy-and-paste retirement communities seen in the suburbs. Proximity to museums, restaurants, shopping, fitness and entertainment can reduce the amount of amenity space needed within the building, which can potentially save developers money. With the ability to walk or bike to nearby destinations and convenient access to a variety of transit options from RTD to ride-sharing, older adults may not need that second car, or a car at all, decreasing the amount of parking needed.
Older adults are the fastest-growing age group in America thanks to increased longevity and better health care. The common denominator is they want to enjoy experiences that reflect who they are and help build social connections. With the surplus of vacant office buildings in downtown Denver and city officials recognizing the need for more housing, converting office buildings to residential could be the next profitable trend for developers.
---