A new year serves as a source of inspiration and rejuvenation. As we look to 2023, here are a few design trends, both new and ongoing, that we are seeing, loving, and utilizing in multifamily design.
UNIT DESIGN
Though casual, contemporary design continues to be a priority for renters, the biggest draw is thoughtfully designed units. Units should maximize square footage to allow renters to get multiple uses from their homes. In the example below, a small dividing wall was added between the kitchen and front door, carving out a purposeful entryway and creating a place for coats and shoes. Simultaneously, the addition of the wall creates a flexible space that might be used as a dining room or an office.
Functionality is key to a harmonious living space, and the inclusion of flexible spaces creates the opportunity for residents to comfortably utilize their homes for work or play in addition to a place to live. Other design features like maximizing natural light through the inclusion of large windows and incorporating natural materials into units will also continue to be a draw, as renters are still seeking environments that promote wellness.


Amenity Design
Younger generations are desirous of authentic experiences, and they are willing to invest in them. Amenity spaces should be designed with that in mind and aim to deliver those experiences to residents, while also driving connection between them.
In the example below, a gear lounge serves as more than just a space to store outdoor equipment. The room has been maximized by incorporating a tuning station, seating area, and TV screens, creating a space for outdoor enthusiasts to meet and plan their next adventure. You might also consider incorporating a gear rental option into the space, providing equipment for residents to create the experiences they are desirous of.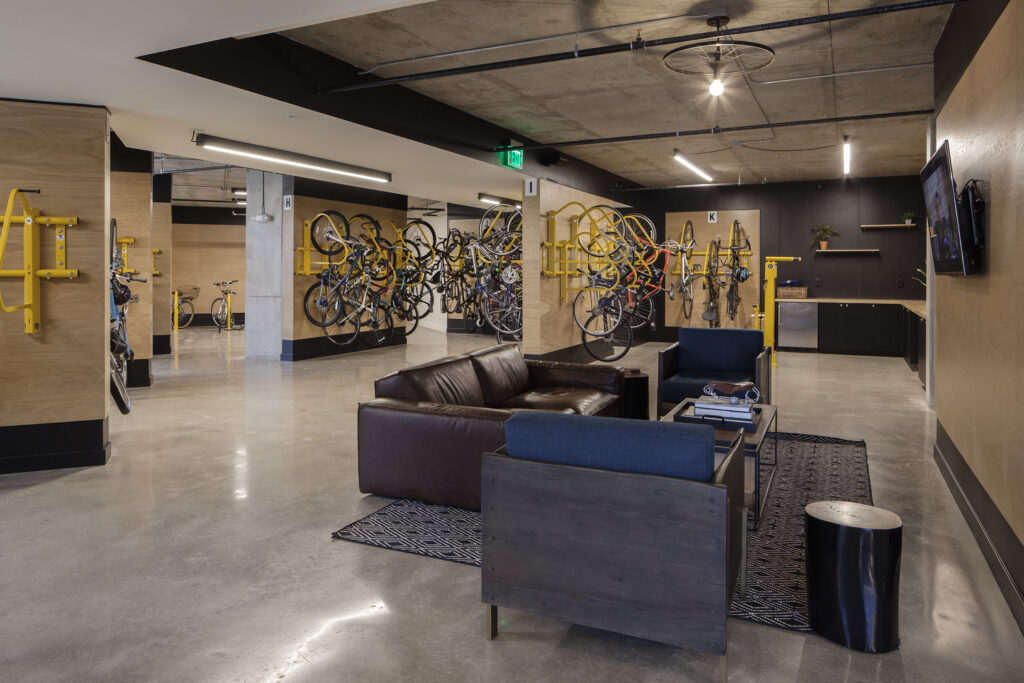 Keeping with the theme of authenticity, amenity spaces should reflect the region in which they are located. Examples include a wine cellar or tasting room in communities close to wine country or gaming rooms in student-housing communities.
Site Design
When it comes to designing your site, take advantage of its topography. In the example below, we used the uneven site topography and retaining wall to our advantage, utilizing the space to create small, private yards for units on the first floor.
We also incorporated an outdoor walking loop within the community. Residents look for opportunities to connect with the outdoors and creating ways for them to do so safely and conveniently adds tremendous value to your community.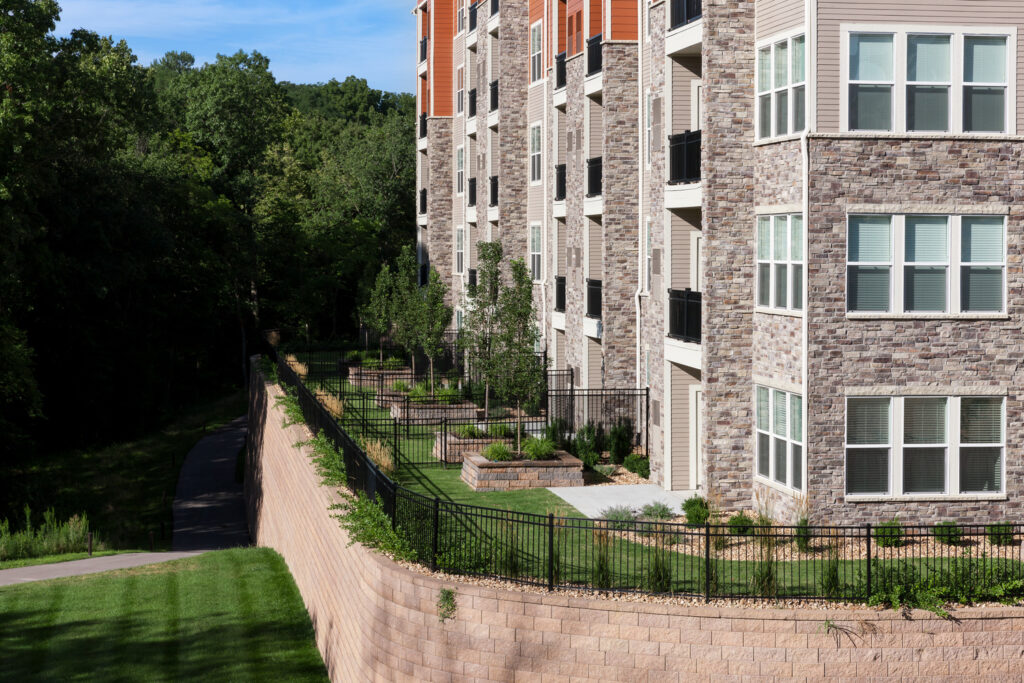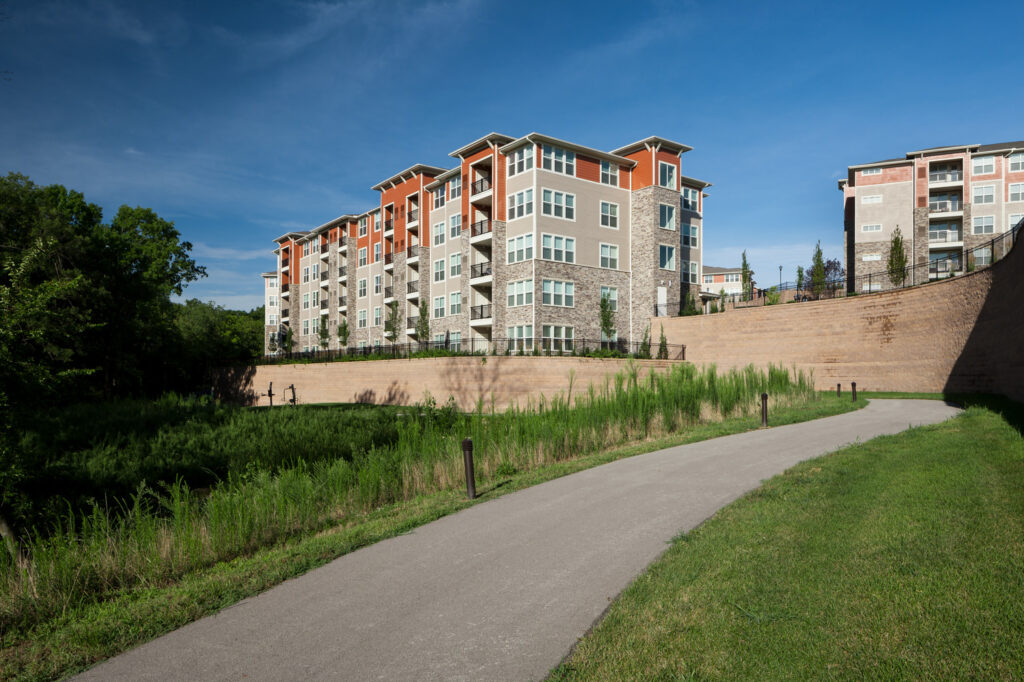 Another site consideration should be including a porte-cochere to create an easy entry and exit point to the building for delivery drivers. The addition of an adjacent indoor seating area also creates a space for residents to wait for Uber drivers or food deliveries.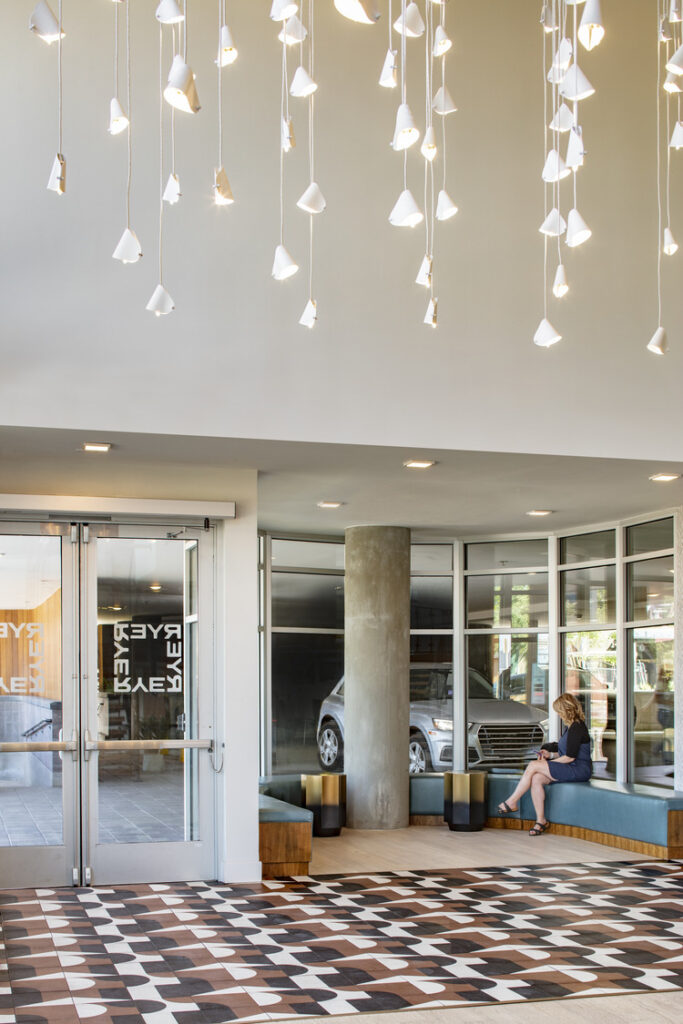 Though trends are constantly evolving and changing, we see these design ideas as long-term ways to add value to your community and to your residents' living experience. Want to learn more? Let's chat! Give us a call at 303-832-4474.