As build-to-rent communities grow in popularity, so does the need for more diversity in elevational character. Variation in color, style, and bedroom count becomes necessary to create communities that are cohesive, yet also offer a variable street scene.
Creating elevational diversity across a series of plans without sacrificing efficiency has been an interesting design challenge. Below are three ways that KEPHART has broadened the elevational character of our build-to-rent homes, while also maintaining functionality and upholding the cohesion of a community.
Change Up the Character
One of the simplest ways to create variation without sacrificing functionality is to change the elevational character. To create a prototype that can easily be built in markets across the country, we designed one product with four unique elevational characters – Farmhouse, Urban Farmhouse, Santa Barbara, and Craftsman. Utilizing different materials allows each character to have its own look and feel and makes the homes easy to replicate with minimal change. This prototype also features seven different floor plans, all of which can be updated on the exterior in the chosen character to meet regional market demands.
Adjust the Bedroom Count
The continuity of exterior materials, use of the same sized windows, and inclusion of design details like a front porch are essential to creating a community that feels cohesive. These design decisions are also made for the sake of efficiency and keeping costs manageable. However, without variation between floor plans, every house will look the same.
In this street scene below, each home features the same entry level floor plan, but the flexibility in the upstairs bedroom count creates elevational variety. Not only does adding more bedrooms broaden the product offering to reach a wider pool of renters, but it creates more variety without foregoing a cohesive look and feel. The image below shows a 1-bedroom home, a 2-bedroom home, a 2-bedroom home, and a 1-bedroom home, visually demonstrating how the difference in bedroom count creates a modified elevation.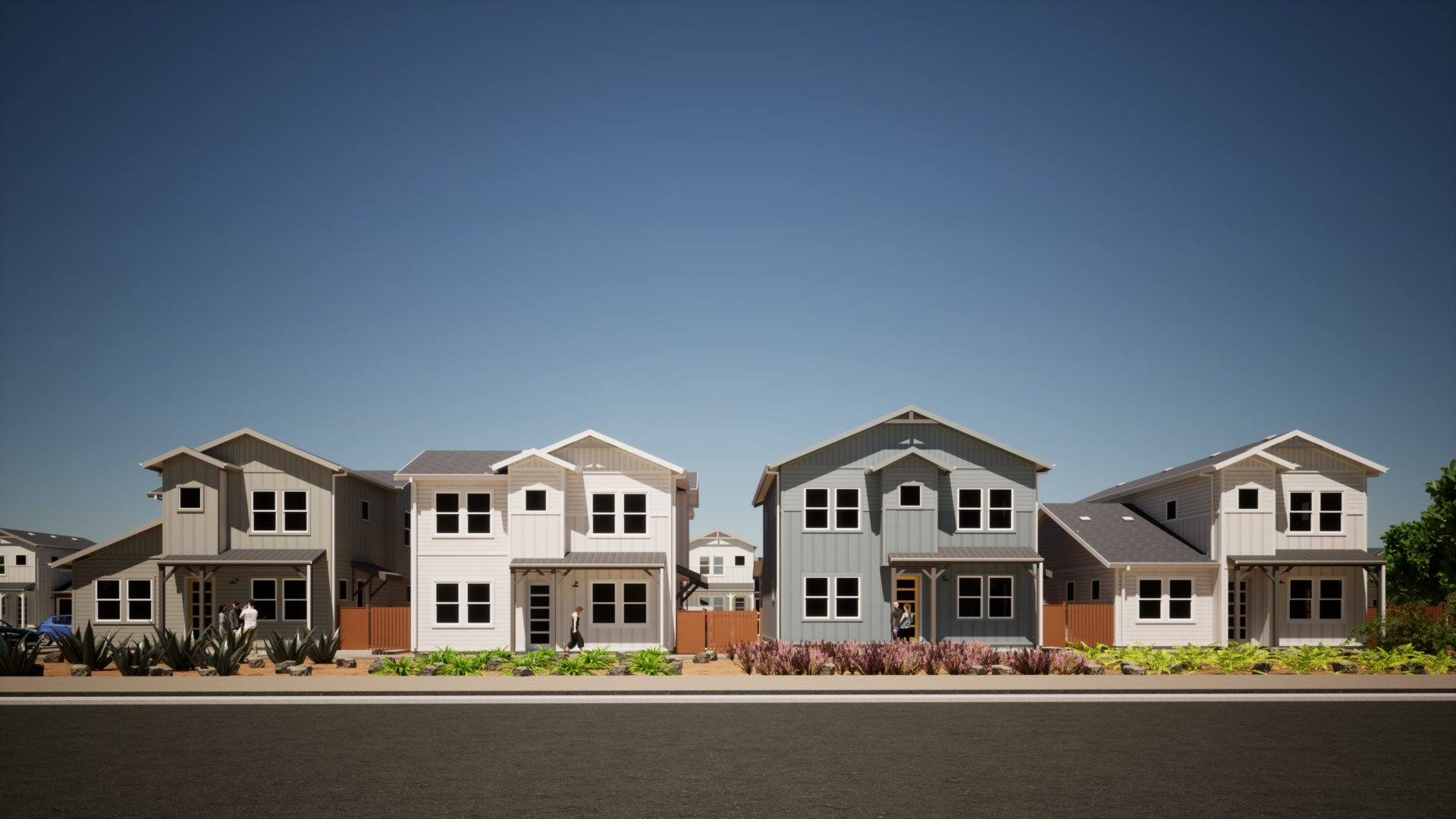 Utilize Regional Colors
To create visual interest while still maintaining uniformity, utilize variation in color. In this community, located in Phoenix, Arizona, we completed a regional color study and established a color palette inspired by desert hues. The homes are monochromatic with consistent materials, but feature variation in the color of the awning and front door to create a stronger sense of place for residents. Likewise, the color of the board and batten could be mixed up to create variation in the product, while not impacting the ease of replication.
While efficiency is key with this product type, designing a thoughtful and diverse community for your renters is also essential for success. Using variation in color, bedroom count, and exterior design can add variety to your elevations and broaden the pool of renters you attract. To learn more about these ideas, or to connect with KEPHART to explore your own, give us a call at 303-832-4474. We'd love to help!