When designing a kitchen, one of the first decisions we make is where to locate the sink. This doesn't seem like it would be that important. But the location of the sink drives the design and functionality of the kitchen.  A seemingly never ending debate we face in our office is whether or not to locate the kitchen sink in the island.  We talked to several architects and designers to try and get to the bottom of this. Below is a list of the pros and cons we heard for locating the sink in the kitchen island.
Sink in the Island Pros
This layout works great when there are two cooks in the kitchen. This allows one cook to be working at the stove, while the other can be washing or prepping food at the island.
A well- balanced kitchen has a sink in the island. When there is room for a dining table, there is no need for extra dining space at the island.
The sink in the island frees up more useable counter space near the stove.
This layout promotes conversation with guests. No one has to turn their back while prepping food or cocktails at the sink.
Sink in the Island Cons
When entertaining, it is nice to have the entire island for people to gather around without the sink in the middle of the conversation.
An island free of a sink is a great place for food to be placed for potlucks and larger gatherings.
A sink-free island is convenient for prepping food and baking. So there is a plenty of room to spread out ingredients.
Without a sink, the island acts more like a dining table and provides a better dining experience.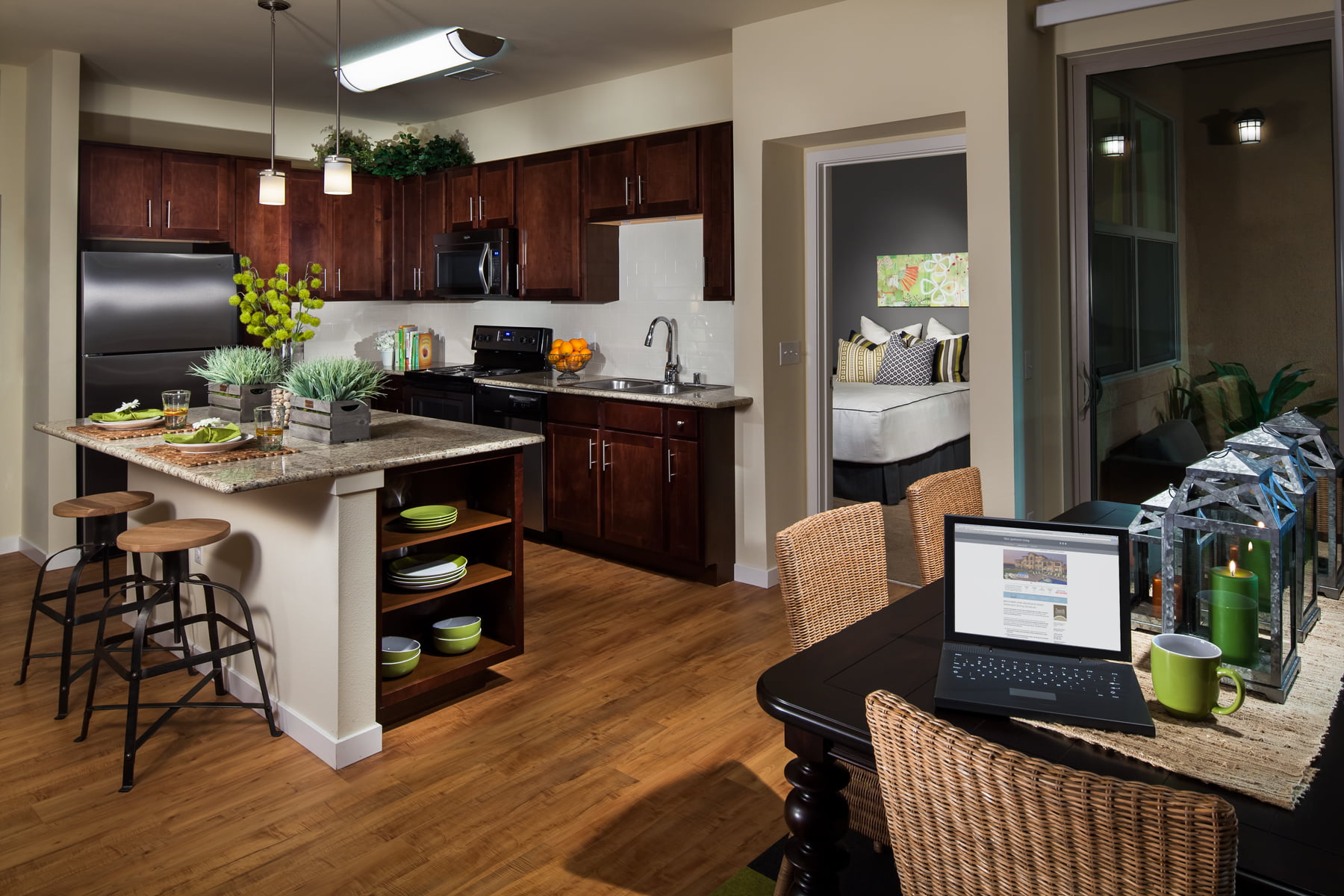 We discovered that when it comes to the sink being in the island, there really is no right or wrong answer. It ultimately comes down to preference.  If you are looking to create a "wow" factor in a rental unit, the island without sink and a bookcase on the side is a great way to go.  When potential residents walk into the unit for the first time, they see a beautiful, clean island and are not focusing on a sink and faucet in the middle of it.  If the home is for-sale, it might be better to go with the sink in the island. This will make it easier for more than one person to work in the kitchen.
Those are our thoughts, which option do you prefer?  We would love to hear your opinion.
---