The electrification of multifamily housing is becoming more prevalent as cities prioritize sustainable initiatives and the reduction of emissions from buildings and homes. To meet these goals, renewable energy sources for heating and water systems are necessary for new projects.
While going all-electric offers numerous environmental and safety benefits, it can also present uncertainties for developers who have not previously developed an electric building. With ever-changing city and code requirements, developers may struggle to know what questions to ask, what considerations to evaluate, and the associated timing to ensure their building design is efficient, adheres to requirements, and keeps their proforma on track.
To help, KEPHART is offering guidance on essential questions and other considerations developers should discuss with their architects and when in the design process these choices need to be made.
Timing
Timing is crucial when considering going electric. The MacLeamy Curve below shows the relationship between timing and the design/cost impact, highlighting the importance of making design decisions early to minimize costs. The longer the team waits, the more expensive it becomes to redesign the building to accommodate the appropriate equipment choices.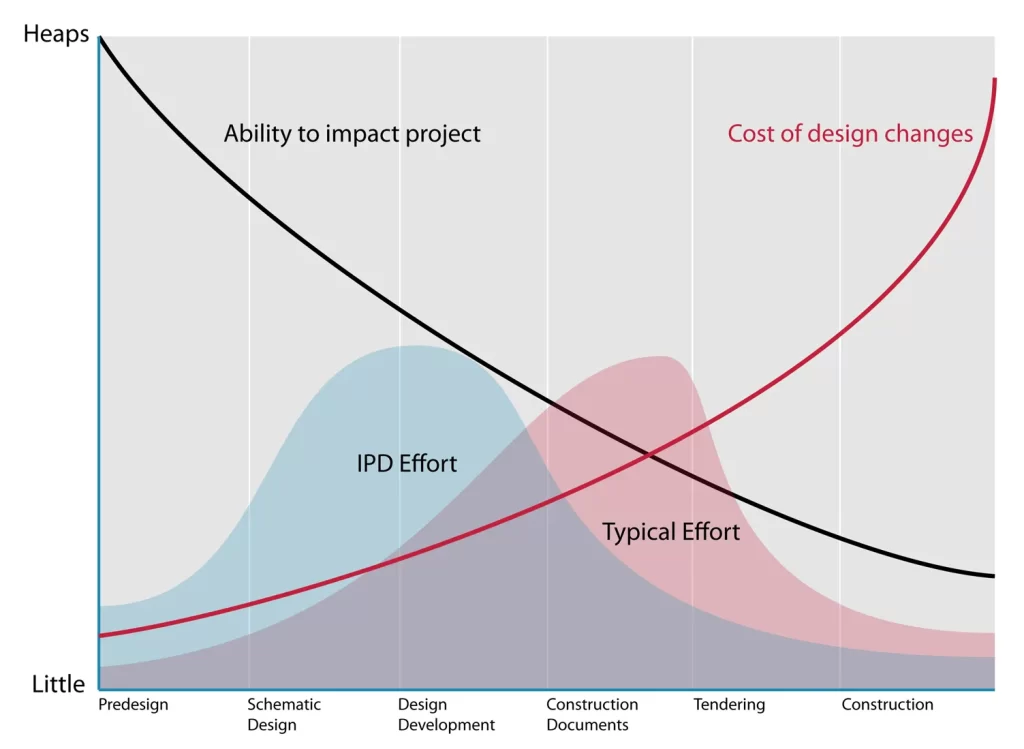 Considerations
Site Location: The first consideration is the availability of the necessary utilities to the site. Urban locations are generally more suitable for electric equipment installation and maintenance, while rural sites may present more challenges in terms of access to necessary infrastructure of a project.
Approach: Developers should consider whether an all-electric, gas-powered but electric ready, or a hybrid approach aligns with project and budget goals and feasibility. Site location, space requirements, city requirements, and equipment cost should all factor into the decision.
Water Heating: The type and location of the water heater chosen can impact the design of units, the mechanical room, and parking garage. Developers need to consider the design requirements of each type of water heater and how it will drive the building design.
Utility Costs: In affordable housing projects, it is important to understand the impact of the chosen approach and how it will impact ongoing utility costs. An increase in ongoing utility costs may result in a decrease to Net Operating Income, and vice versa. It's crucial to consider the impact of electric costs as a function of the project's final performance.
Project Costs: When considering implementing electric equipment in a building, it's important for developers to evaluate available tax credits, subsidies, and rebates that can help offset these expenses. One potential option is the 45L tax credit, which offers up to $1,000 back per door for buildings that meet Zero Energy Ready standards. In addition to this credit, there may be other subsidies and incentives available at the federal, state or local level that can further reduce costs and make the transition to electric systems more financially viable for developers.
When considering going electric, it's recommended to consult your experienced architect as early in the process as possible. With the professional expertise of an energy modeling company like Energetics, the team can begin to navigate energy efficiency requirements and explore financial incentives available to you. By starting a dialog and asking the essential questions above, developers can minimize design changes and achieve a financially viable and environmentally friendly end result.