As we have been exploring the build-to-rent market, we've come up with two successful prototypes that prioritize thoughtful and efficient design. The first concept elicits the feel of a single-family home and neighborhood, while the second lives more like multifamily. Each solution presents a contemporary concept of home that can easily adapt to suit a wide range of demographics and meet the diverse needs of today's renter.
Front-to-Back Prototype  
This award-winning build-to-rent prototype features paired homes that were strategically designed front-to-back. The creation of private entryways allows them to live more like single family homes, while also yielding higher density due to the amount of frontage on the street.
This prototype features two different types of homes – street-facing homes with one and two-car garages and pedestrian court-facing homes without garages. It also includes seven different floor plans that range in size and bedroom count to appeal to a wide range of demographics from a 750 sq. ft. ranch to a 1,125 sq.ft. two-story plan with a main floor primary bedroom and a 1,275 sq. ft. two-story, three-bedroom plan. The plans were all strategically designed to be the same width allowing them to be built in numerous combinations to meet market demands.
This prototype also thoughtfully considers details like window placement, ensuring that bedrooms include high windows to allow for privacy in adjoining side yards, and intentional nooks with built-in desks to accommodate working from home.
Side-to-Side Prototype
This second, award-winning build-to-rent prototype utilizes timeless and simple forms to create a modern and highly efficient concept that can be easily replicated. We designed four plans that range in size and function, from a single-story 2-bedroom to a 3-story 3-bedroom layout to suit a range of renter demographics and lifestyles. The plans were strategically designed so the trusses align, allowing the homes to easily attach side-by-side in many different combinations to allow for easy replication from site to site.  The flexible nature of this prototype allows the homes to successfully meet market demand, while also accommodating site constraints, such as challenging topography, of the location in which they are built.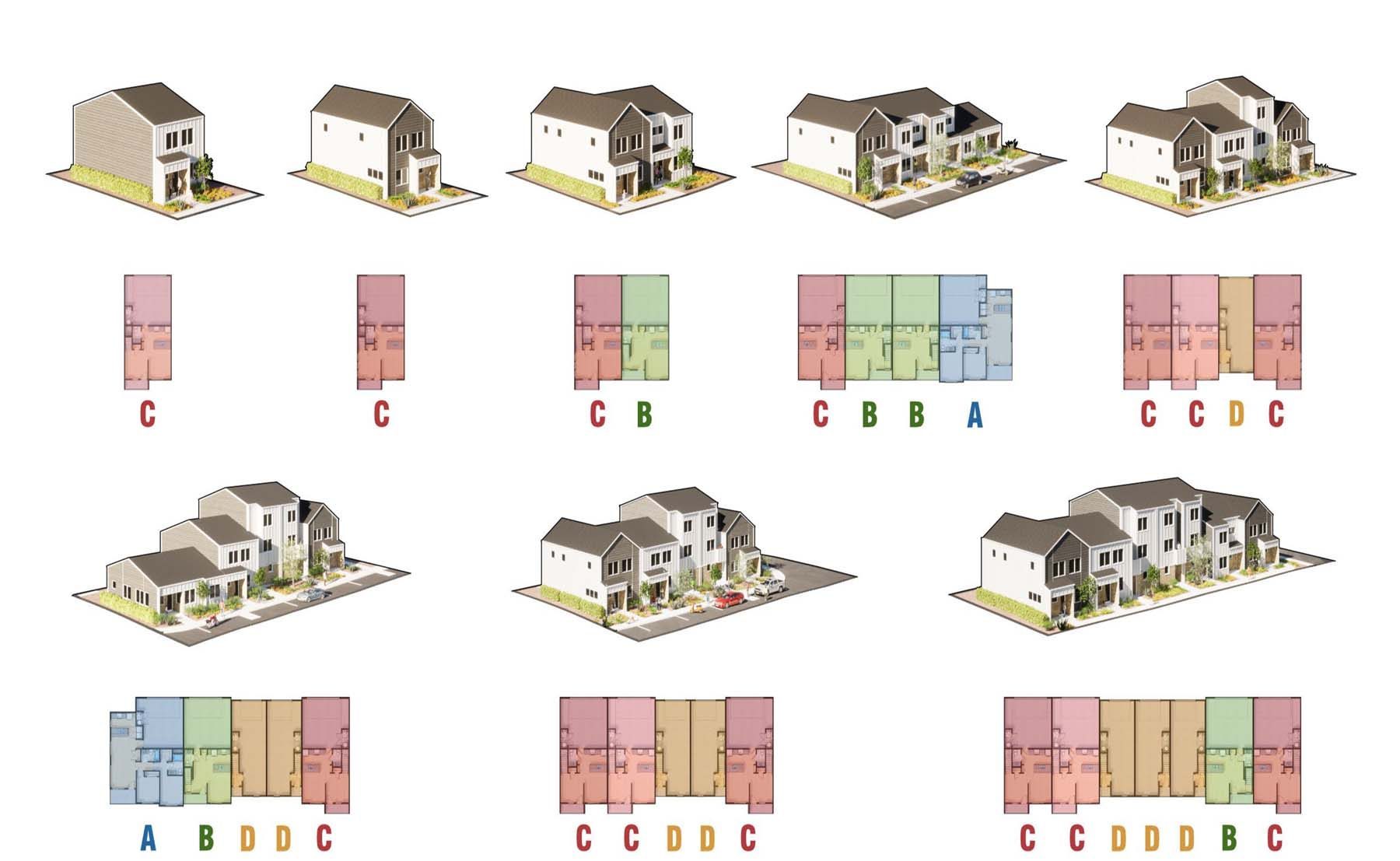 One of the biggest draws to build-to-rent is the flexibility it offers. It can provide a great housing option for a range of demographics, from young professionals, to families, to empty-nesters who are looking for a lock-and-leave lifestyle. Designing floor plans that accommodate renters in varied stages of life is crucial to the success of your next build-to-rent community.
If you would like to learn more about KEPHART's build-to-rent designs, we'd love to talk! Give us a call at 303-832-4474.