One of the most significant societal shifts to result from COVID-19 has been the transition to businesses operating remotely. As companies have ironed out how to provide remote work environments, many have welcomed the opportunity to reduce expenses and eliminate a percentage of office space. With less demand for office space comes vacancy in urban cores, left to be reimagined and redesigned by teams like KEPHART.
In an effort to present an alternative use for office space, KEPHART reworked the internal layout of an existing office building in downtown Denver to demonstrate how we can bring new life into it via the creation of residential "neighborhoods."
Let us show you.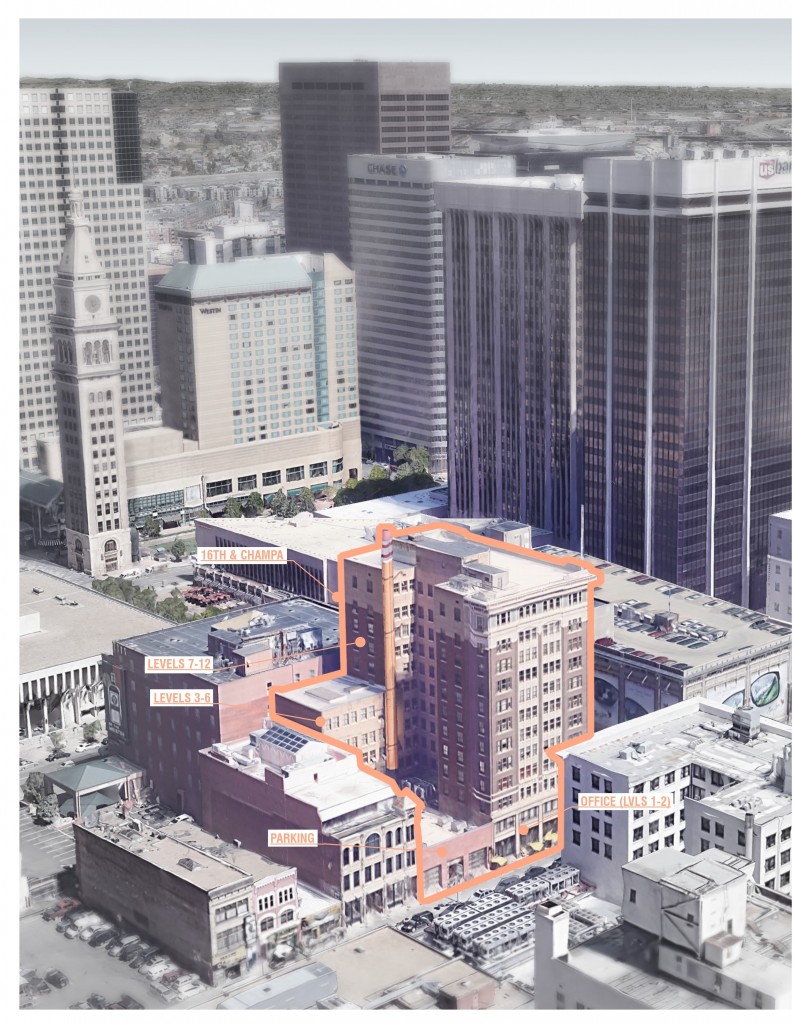 To keep the ground levels active, we kept the first two floors a combination of retail and office space to provide residents with convenient options for dining, work, and entertainment. To emphasize the residential nature of the building, a private entrance for residents was added on the ground floor.
To address the need for parking, we converted the adjacent lot into an automated parking system that can store up to 24 cars per level. This space can serve as short-term parking for those who need regular access to their vehicle, or longer-term storage for those who want to keep their vehicle, but do not drive often.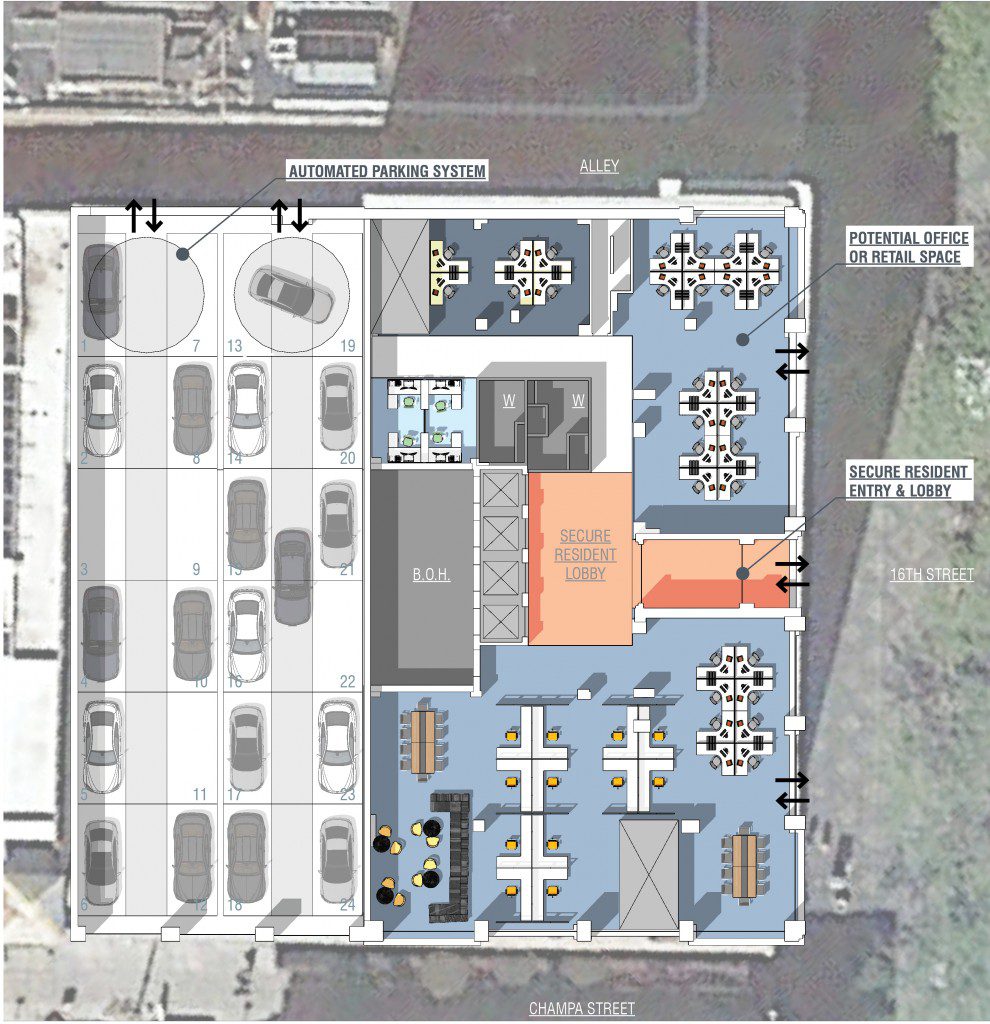 We have reprogrammed floors 3-12 for 100% residential use. Each floor contains two neighborhoods with a mix of studio and one-bedroom units, as well as a communal space with a kitchen and lounge area. The neighborhood design is intended to help foster connection and community by providing comfortable, intimate spaces for residents to gather. This is a departure from the programming typically found in large apartment buildings, where shared amenity spaces are used by everyone and it can become more difficult to thoughtfully connect with neighbors. Right-sizing the amenity spaces for smaller groups and conveniently situating them at the heart of each neighborhood allows neighbors to easily come together to cook a meal, play a game or stream a favorite show together. Neighborhoods could be themed to further attract individuals with shared interests.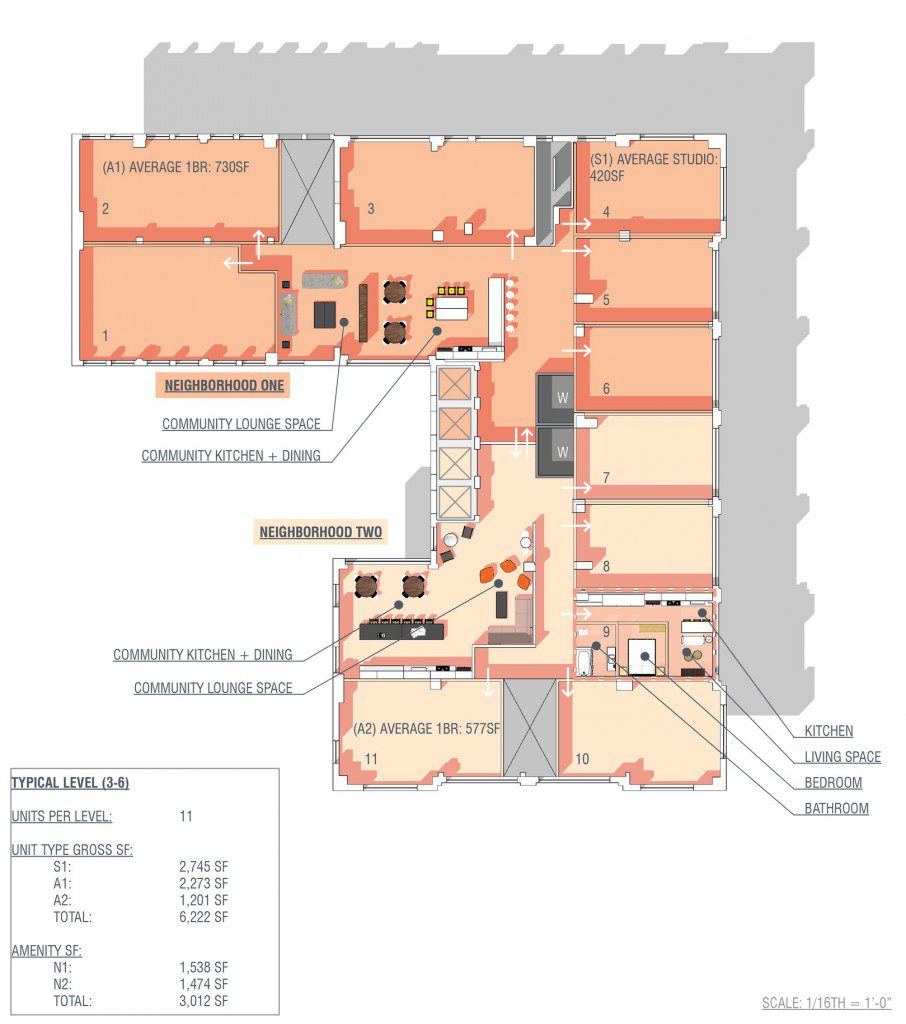 So, who do we see this concept working for? 
This concept lends itself well to anyone looking for a walkable, urban lifestyle that offers a true sense of community. We see this concept appealing to the nomadic nature of Gen Z and younger Millennials who now have more job flexibility and can work remotely from anywhere. This communal living setup provides an affordable, centrally located living option that offers easy opportunities to connect with neighbors. In a city where you may not know anyone, moving into an inclusive community is invaluable and helps make a space feel like home.
This concept could also appeal to Boomers who are looking to downsize but still want to be conveniently located near necessities like a good market, shopping and a pub where everyone knows your name. Active Adults are looking for social connection and this concept facilitates that. And, for those looking to travel, this concept is easy to lock and leave.
What are some considerations?
To determine the feasibility of this idea, there are several important considerations. You need to understand the jurisdiction's planning requirements and whether the building will require a re-zone. You need to assess the existing infrastructure – is it adequate or does it need an upgrade? To accommodate full-time residents, plumbing and electrical may need to be reworked. It's also crucial to evaluate the building as it currently exists, taking into account the geometry, structure, systems and daylighting to determine what would need to be changed.
Looking to reimagine your office space or want to learn more? Call KEPHART at 303-832-4474.
See another project we have reimagined: The Citizens